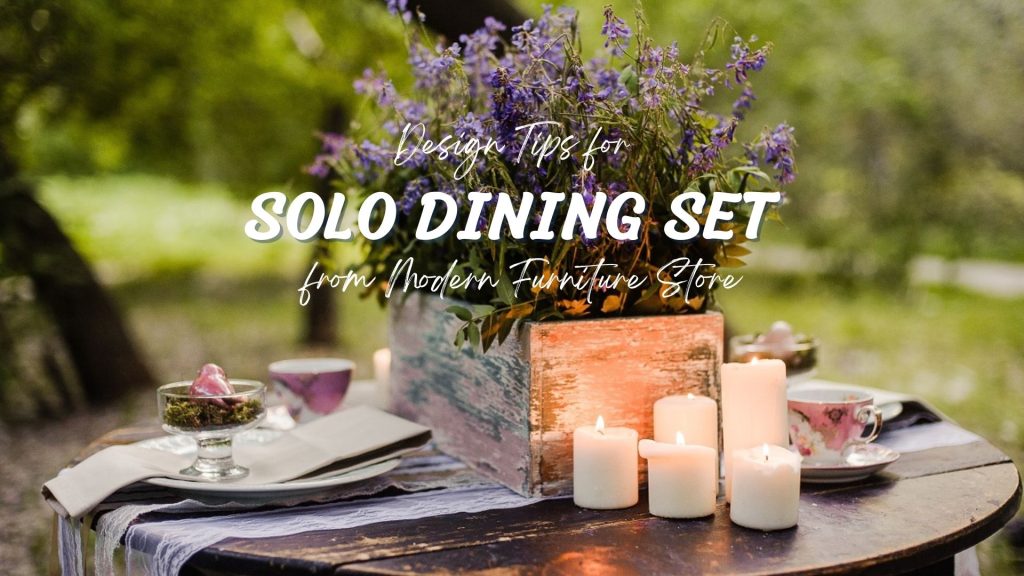 Design a Dining Table for One from Modern Furniture Stores in Los Angeles
If you live alone and your place doesn't have much room to spare, creating a cozy dining space without throwing the rest of the space out of balance can be challenging. Dining solo doesn't have to be a lonely, lackluster affair. With some décor and a few smart choices from a modern furniture stores in Los Angeles, you can design the ideal space to enjoy your meals.
Tips for Designing a Solo Dining Table
When you have limited space, your dining area should be as versatile as possible. Aside from giving you a place to eat, it should also fit in a few more people for intimate parties or function as a workspace whenever the need arises. Use these tips to create a multi-purpose dining nook:
Think Out of the Box for Your Dining Set
Swap out the usual dining chairs for benches. It will help you save space while providing seats for several people. If you'd like to stay with the classics, invest in a mid-century modern dining set instead. Its sleek and clean lines simultaneously prevent visual bulk and open up more space.
Lack floor space? Use the wall to your advantage. Push up your table to one wall, then add a light fixture and a couple of art pieces to mimic the ambiance of a chic café. For this look, go for a contemporary dining room sets with metal legs and some earthy and pastel colors. Install pendant lights above the table to enhance the laid-back mood.
Increase the posh factor by investing in some luxurious accents for your dining area. For instance, hang an elegant chandelier above your dining nook, and spread out a silky rug under the table. Complete the aesthetic with a couple of functional art pieces. Keep it minimalist for a more sophisticated touch.
Limited spaces for one require furniture that have more than one job. For instance, a drop-leaf table can fit one person, but can also be extended to accommodate a crowd. Invest in benches with built-in storage space for table linens and other essential dining room items. When you go to your modern furniture stores in Los Angeles, seek out furnishings that serve more than one purpose to maximize every square inch.
Make the most of your solo dining area by utilizing the upper spaces. Instead of parking a bulky cabinet in one corner, go for floating shelves. High-backed chairs take up less space than upholstered ones, and a bar table and slender chairs give you more freedom instead of the usual low-slung dining set. Keep these in mind when you shop for dining furniture.
Expand the Space with Color and Mirrors
Use lighter color palettes to make your dining area look more spacious. Decorate with mirrors to visually expand small spaces. Hang one large mirror on one wall or display three identical mirrors symmetrically to achieve the effect.