Are you cleaning your outdoor furniture in Los Angeles the right way? Like most kinds of furniture, outdoor pieces require regular cleaning. Dust, leaves, and dirt are likely to gather on any furniture that has been left uncovered during extended periods. Regardless of how often you use the furniture, a good cleaning is important!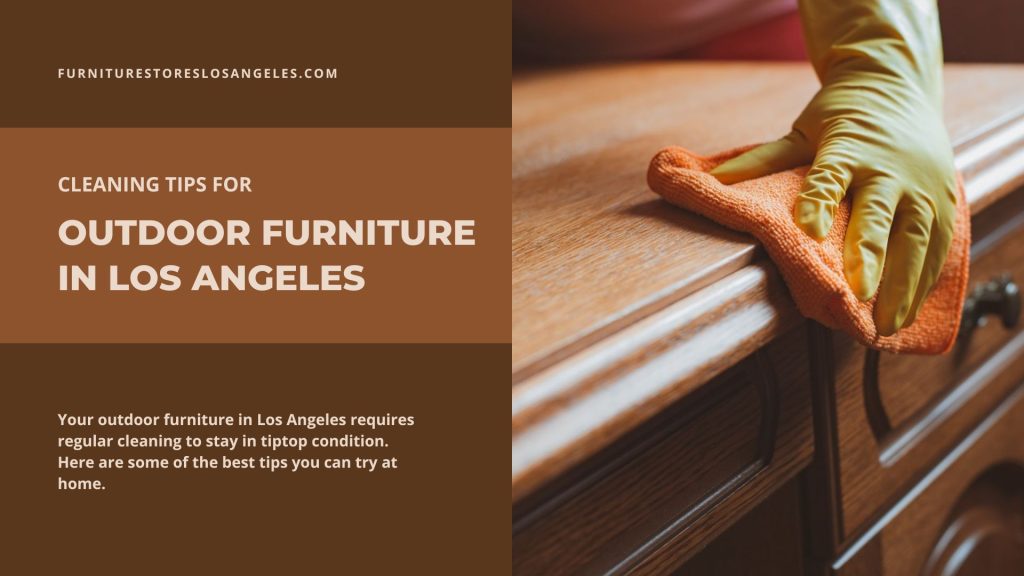 How to Clean and Maintain Various Types of Modern Outdoor Furniture
Various kinds of furniture require specific types of cleaning. But, fret not! There are quick and easy ways to keep your outdoor furniture in excellent condition.
Steel/Metal Outdoor Furniture
Steel is one of the most common materials used for outdoor furniture because of its durability. However, metal furniture collects dust and grime as easily as other types of furniture. In addition, steel is susceptible to rust especially when the furniture comes in contact with moisture. This results in reduced aesthetic appeal and durability.
To keep your metal furniture in excellent condition, here are simple cleaning tips you can try:
✔️ Use a mild cleaning solution. A mixture of vinegar and water works great on preventing early signs of rust.
✔️ Use baking soda. Mix it with water and hydrogen peroxide. Gently apply the solution using a clean cloth, then leave for about 15-20 minutes.
Remember: Be sure to take preventive measures to lower the speed of rust formation. Regular maintenance keeps metal furniture from rusting and acquiring dust and grime. In addition, keep your metal furniture protected from rain and direct sunlight.
Wood materials give outdoor furniture an authentic feel of nature. However, while wood is excellent for aesthetics, it is one of the most challenging ones to clean. Here are some tips to help you:
✔️ Avoid using harsh cleaning supplies.
✔️ Use oil-based products for cleaning.
✔️ Don't use too much water. If necessary, don't allow water to sit for too long on the furniture. This can make the wood warp or crack.
✔️ Use wax wood for a shiny and conditioned finish.
Remember: Generally, you need to be careful in cleaning the furniture depending on the wood finish. Follow the right steps or ask an expert to find out the best way to clean each type.
Plastic Outdoor Furniture
Outdoor furniture made of plastic is perfect for those who have pets and children at home. Not only are they easy to get from any modern furniture stores in Los Angeles, but they are also some of the easiest ones to clean!
✔️ Simply dust them off of any dirt and debris.
✔️ Finish it off with any cleaning solution that is free of chlorine or bleach.
✔️ Make sure to allow each part to dry before using them again.
Remember: The secret to brightening plastic outdoor furniture is proper care. Nobody wants to eat off a dirty table or sit on a grimy patio.
Glass outdoor furniture is another common sight in every backyard in Los Angeles, and is also one of the easiest to clean! Here are some tips to help you:
✔️ Remove any stuck-on debris using nonabrasive material such as damp cloth or sponge.
✔️ Clean the underside of a table once a month to prevent accumulation of permanent grime.
✔️ Cover glass when not in use.
✔️ Clean glass frames depending on their material type.
Remember: Since glass is fragile, it's very important to clean it very gently.